Shot Notes
This is multi-instrumentalist, Xavier Rudd, on the Crossroads stage at Bluesfest 2022. The set began in a chilled soulful way with him playing 12 string guitar, didgeridoo, lap slide guitar and harmonica, before getting behind a drum kit.
Browndog used his track "Follow The Sun" in their Monday Bluesfest Montage. Since then it has been stuck in my head, as it has good navigation advice for those living in mobile photon catchers. I bought his 2012 album "Spirit Bird" and listened to it as I reviewed his photos.
The album uses samples from Australia's diverse and musical songbird populations. Since I moved here in 2011 the variety of their tunes has been a constant wonder. As songbirds originated in Australia and they predate humans anywhere, this land probably heard the first music.
This shot captured his smile but the background was a dull dark brown. I was inspired to get creative by another photographer Jason Rosewarne who produces artworked festival images to a very high standard.
This image cannot be used as editorial due to localized adjustments so this is purely a fun exercise in Photoshop for the blog. I used a sunset shot from South Australia called Solar Nuke to add the yellow, orange and red spots. Difference blend mode was used with a soft scattered brush to create the blue, purple and green fireflies.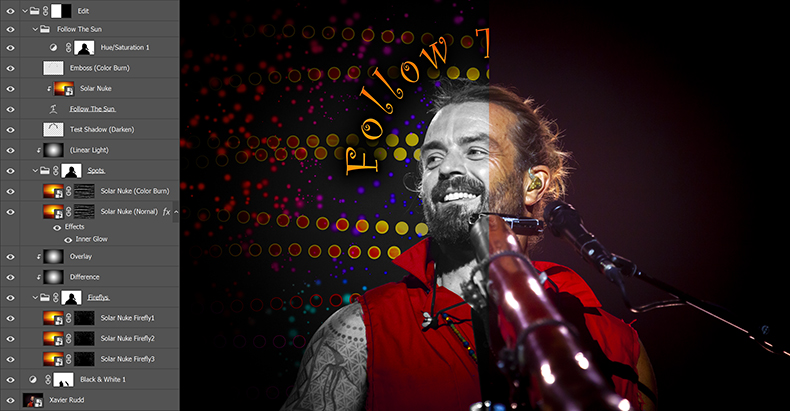 The unedited image is available for download here.
Watch this page to see next time Xavier Rudd will be at Bluesfest Byron Bay or WOMADelaide.
UPDATE:  Xavier Rudd will return to the festival in 2023, Tickets from the Bluesfest website.